The Category Idea is a category for all the Blocksworld builder's ideas! Share to us your designs, systems and programmings!
To make your Idea appear here, first Create a page with the prefix "Idea:" (Ex.: Idea:Car), then add your content to it (description, programming, images, etc.) and finally, once it's published, add the category Idea. If you have created a Blocksworld's profile on the Wiki, you can also add your profile's category to it, so we will know it's YOUR idea.
dont Forget your world!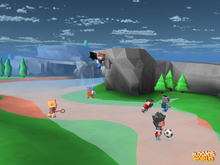 Popular Idea Pages
Trending pages
All items (16)
Community content is available under
CC-BY-SA
unless otherwise noted.